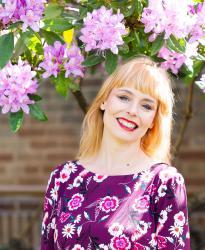 What technology project(s) have you worked on that you are most proud of?
:
I'm proud of so many of the projects I've worked on at UCSF. My favorite projects include transitioning BCH Oakland from their Groupwise email client to Outlook (this - along with a photoshoot of their IT staff - helped us connect the East and West Bay); the Security 2.0 project in which we combined outreach, handing out donuts, and encouraging people to download security software on the spot, with our communication efforts (a kind gesture was so much more effective than an email!); and lastly, I'm especially proud of the phish alarm project that uses the tagline "Don't Play Koi."
How has technology helped you achieve a goal within your role or department?
:
Metrics! Change and communications efforts used to be difficult to measure, but with technology, I'm able to gather data and report back to leadership. For example, partnering with Campus Life Services (CLS) to use their "Who's There" badge scanners was instrumental in telling us who actually attended the free event versus registration data. We also track campaigns via custom URLs and use our email marketing tool to measure open and click rates.
What's your favorite aspect of your role at UCSF and why?
:
I enjoy collaborating with other teams across campus and across UC; however, my favorite aspect is learning about how technology enables and furthers the UCSF mission. One example is how technology is used by Radiology to capture images such as x-rays, CT scans, and MRIs to diagnose conditions.
What's one 'fun fact' about you that not many people know?
:
While few people know that I love mythology and folklore, even fewer people know that I'm addicted to true crime. During the height of COVID, my daughter introduced me to Bailey Sarian's Murder, Mystery & Makeup series on YouTube. I shared this with my colleague and best friend at work, Vanessa Palacios. Now we watch it every Monday evening as soon as a new episode drops.
What do you like to do when you're not at work?
:
Dancing is my passion.

 I take many different styles of class as often as possible, and I've danced internationally too.
If you could learn anything, what would that be?
:
Since shapeshifting into a unicorn is out of the realm of possibilities, I will continue to learn to lead with kindness.