Marketing - Digital Marketing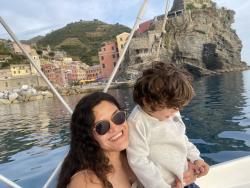 What technology project(s) have you worked on that you are most proud of?
:
I helped lead the redesign of UCSFHealth.org and UCSFbenioffchildrens.org. I also worked on the LGBTQ+ product that allows our providers the ability to denote they are a part of the community on their patient facing profiles. Most recently, I have been working with the open scheduling team and establishing design for our new CRM suite of products.
How has technology helped you achieve a goal within your role or department?
:
My goal is always getting new and existing patients to care they need as quickly and efficiently as possible. During the last few years, the pandemic has pushed our technology in a way we didn't expect so my goal now is how to continue to evolve the way our patients can learn about their conditions, and schedule with the perfect fit provider while meeting their accessibility needs.
What's your favorite aspect of your role at UCSF and why?
:
I like that I can bring a technical lens to healthcare that is not traditionally what you may think of as a leader in tech.
What's one 'fun fact' about you that not many people know?
:
I once sailed the Greek isles with a group of 9 friends on a small sailboat with only one bathroom and loved every minute of it.
What do you like to do when you're not at work?
:
I have a three year old firecracker of a son, so these days I'm really enjoying exploring the world through his eyes. We spend a lot of time walking around the Presidio and Baker Beach.
If you could learn anything, what would that be?
:
I am a maker at heart, and in my field all my work ends up being pixel based so I would love to learn something like glass blowing, wood work or welding that leads to tangible makes.