Kathleen Yumul (she/her/hers)
Wellness and Community (Campus Life Services)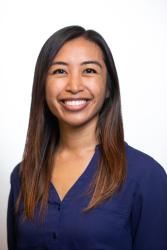 What technology project(s) have you worked on that you are most proud of?
:
Seeing our vision of the MyWellness Resource Hub come to life: mywellness.ucsf.edu. It's been great to see our goal of having all wellness resources available to the UCSF community on one website.
How has technology helped you achieve a goal within your role or department?
:
Since the onset of the pandemic, our team has been using MS Teams heavily to communicate and work on shared files. Our enewsletter via Emma  and new Instagram account have been great to allow us to get the word out about our programs and connect with our community. Qualtrics has also been our go-to survey tool for collecting feedback from our audiences.
What's your favorite aspect of your role at UCSF and why?
:
I love hearing that the programs, initiatives, and events we put on positively impact people's lives and support their wellbeing. I also enjoy that my role allows me to connect with people from different units and departments.
What's one 'fun fact' about you that not many people know?
:
I don't drink coffee, but I love coffee-flavored ice cream.
What do you like to do when you're not at work?
:
Hiking, traveling, thrift store shopping, trying new restaurants, and taking care of my plants.
If you could learn anything, what would that be?
:
How to speak any language! And how to juggle. And how to do a headstand.