Clinical Systems/Health Informatics
Clinical Nurse Informaticist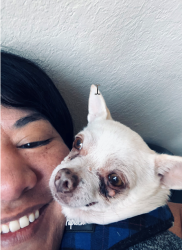 What technology project(s) have you worked on that you are most proud of?
:
I recently worked on a very long project (16months) for the strategic community connect hospital aligning MarinHealth with APeX & some UCSF practices. I also worked on COVID screening for visitors, Rover mobile application initial COVID response rollout and post expansion with APeX, Cures Act regulatory open notes project and most recently the Mytonomy patient education project.
How has technology helped you achieve a goal within your role or department?
:
Technology has helped us achieve an Antiracism website from our new committee to help share resources and an events calendar. Its helping bridge a communication standard place for the committee.
What's your favorite aspect of your role at UCSF and why?
:
I really enjoy working in the different domains that nursing informatics provides. In particular, I love intersectional challenges and trying out creative solutions with IT, data and clinical workflows. I have been working in informatics for over 12yrs, have really worked on expanding and incorporating other domains like DEI work which I love. UCSF does have the propensity of exploring and learning which is something I value at UCSF.
What's one 'fun fact' about you that not many people know?
:
I used to live in Naples Italy for 3 years when I was in the military. I immersed myself in the culture, learned the language and met many people from around the world while living in Europe. My 2nd floor patio overlooked a small vineyard that my landlord worked on to sell white and red house wine to local restaurants. Throughout my time living there, Julio (my landlord) gifted me many bottles with the name he wrote on a blank label "Ciao Bella Jennifer, Vino della casa rosa, or vino della case bianco". What an amazing experience and some of the best tasting wine I have ever had.
What do you like to do when you're not at work?
:
I enjoy visiting new places and trying out new wine bars, live music or coffee shops, because why not?
If you could learn anything, what would that be?
:
Playing piano for a chill band.