Gayathri Warrier (she/her)
Department of Neurological Surgery/Division of Biomedical Statistics and Informatics
Associate Specialist (Research Data Analysis)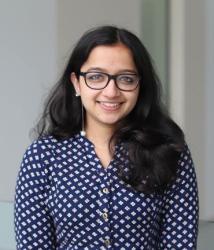 What technology project(s) have you worked on that you are most proud of?
:
I am currently a part of a large longitudinal Immunomethylomics project which looks into immunosuppression in glioma patients wherein I am working on the statistical analysis under the guidance of my supervisor.
How has technology helped you achieve a goal within your role or department?
:
I mainly work on statistical programming for research. Software such as R and Jmp have been my go-to platforms for running various analyses and creating visualizations. My role at UCSF is based on using technology to make it easy to analyze large amounts of data quickly and accurately.
What's your favorite aspect of your role at UCSF and why?
:
The knowledge that each and every project I work on is to help promote and improve healthcare and that there is some meaning to what I do, a positive impact as a result gives me great satisfaction. The fact that I have a great supervisor and am part of a wonderful team is the icing on the cake!
What's one 'fun fact' about you that not many people know?
:
I love to crochet and am self-taught! I love making blankets, headbands, and shrugs, but find myself most interested in amigurumi, which involves making small figurines using crochet.
What do you like to do when you're not at work?
:
I used to spend most of my time reading books of all different genres, but now spend most of my time outside of work with my newborn son.
If you could learn anything, what would that be?
:
I would love to learn a new language, maybe French, German or any other interesting language!