Durga Pisharam (she, her, hers)
Office of Continuing Medical Education (OCME) in School of Medicine (SOM)
User of multiple software systems in OCME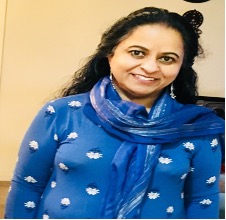 What technology project(s) have you worked on that you are most proud of?
:
OCME installed two new software systems during the pandemic. Transitioning to new systems was particularly challenging for many team members so I took the initiative to learn and schedule a series of trainings for the entire office on Configio (currently our registration portal) and High Marks (our new accreditation portal).
How has technology helped you achieve a goal within your role or department?
:
When the pandemic hit in 2020, OCME needed to switch all in-person courses to a virtual platform. As a team, we learned the ZOOM education platform and implemented it in a very short time. I am happy to mention that I was part of that effort in our department. 
What's your favorite aspect of your role at UCSF and why?
:
I strongly support and believe in working as a team in the unit and collaborating with other units in the organization. The UCSF community provides us the opportunity to work as a 'TEAM,' and I value it.
What's one 'fun fact' about you that not many people know?
:
I love motorcycles and planning to go on a ride on CA-1.
What do you like to do when you're not at work?
:
If you could learn anything, what would that be?
:
My short-term goal is to learn R programming and long-term goal is to learn flying.