---
Name (pronouns): Jill Wolters
Department/Division: IT-Web Services
Years at UCSF: 3 years in December 2020
Role in technology: Web Standards Program Manager, digital accessibility program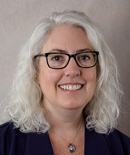 What technology project(s) have you worked on that you are most proud of?
With the support of other UC representatives, I rolled out Siteimprove to our campus, a leading website accessibility monitoring tool, during my first year at UCSF. Together we won the 2019 Golden Sautter Award for our project titled Systemwide Collaboration on Accessibility: The Siteimprove Implementation Project. I am grateful that I got to meet some of the project team members in person at the UCTech-Santa Barbara conference for the award ceremony. I'll always treasure that experience.
I'm also proud that we could offer website reviews by a blind consultant as a service pre-COVID. When a site owner gets to see the experience of someone who uses a screen reader or other assistive technology on their site, it brings to light how different people access the web in different ways.
How has technology helped you achieve a goal within your role or department?
Siteimprove helps me measure and improve digital accessibility. It is an essential tool for me to create awareness, provide guidance on how to meet WCAG criteria, and streamline general website management across UCSF websites. 
What's your favorite aspect of your role at UCSF and why?
Everyone has something to contribute to the World Wide Web. Why? Because the Web is of us. Whatever we are as humans is now manifest in the Web: Our beauty, hatred, fragility, and ferocity; our kindness, cruelty, confusion, and clarity. Our wars. Our peace.
Molly Holzschlag
I'd like to share a quote from one of my Web standards heroes, Molly Holzschlag, named one of Webgrrls Top 25 Most Influential Women on the Web.
I find it rewarding when I'm connecting with digital content creators who embrace inclusion for those with different abilities, through coaching them on how to incorporate accessibility into their website management process.
These meaningful collaborations with a common goal to serve all users – especially those who use assistive technology – align with my values that we all should get to participate in the digital world.
What's one 'fun fact' about you that not many people know?
On a Geek Cruise, I met a German guy who later gave me a reason to visit Germany and Europe for the first time. After a long-distance relationship of a few years, he is now my husband.
What do you like to do when you're not at work?
To counterbalance my work life, I seek tranquility near water, read books, go on artist dates, and create things. I love to get outside with my husband for walks and people-watching – or is it dog-watching? I miss my pre-COVID dog-walking volunteer opportunities at the local animal shelter near the Mission Center Building.
If you could learn anything what would that be?
Once we can safely gather together, I would love to explore more about the Master Gardening Program and dog behavioral training. I learn best by doing and collaborating.
Pages