---
Name (pronouns): Heather Nichols
Department/Division: Department of Radiology and Biomedical Imaging
Years at UCSF: 19 years
Role in technology: Director of Process Improvement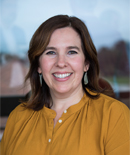 What technology project(s) have you worked on that you are most proud of?
Recently, we completed our second annual Referring Provider Survey. Utilizing Qualtrics, our response rate increased 12% from last year. I helped establish survey as an opportunity for our department to receive crucial feedback on what we do well in our clinical service and what can improve care for our patients and referring providers. Qualtrics has allowed my team and I greater access to surveys and data collection projects. The platform is easy to use and offers a robust menu of functions to gain meaning from the data. Good technology allows the people on the project team to efficiently gather and process useful information to shape and implement their best ideas.
How has technology helped you achieve a goal within your role or department?
This year, all of us have had to develop, implement, and maintain all manner of COVID-19 related initiatives. For a remote workforce tracking complex projects, Smartsheet has been a fantastic tool. From implementing new safety practices across our clinical sites, performing weekly safety audits and analyzing findings, to adjusting our plans as conditions change, our collaborations have been streamlined and coordinated – even semi-automated.
What's your favorite aspect of your role at UCSF and why?
I love solving problems to improve the experience for our patients, providers, and department. My family, my parents, and even my great grandparents have all been UCSF patients. I understand firsthand the importance of our mission and take pride in supporting it.
What's one 'fun fact' about you that not many people know?
My family recently adopted a two-month-old kitten from the SF SPCA. Mittens is adorable, though initially was a bit of a distraction while working from home. He's managed to log me out of a Zoom meeting after jumping on my keyboard and chewed through my headset cord during a call. He's fun.
What do you like to do when you're not at work?
While working from home during the shelter-in-place order, I've started taking daily morning walks to the beach. I enjoy the daily changes in the tides, beach, birds, and marine life. During my walks, I collect sea glass and trash on the beach. Over the past eight months I've acquired quite an impressive collection of sea glass and prevented piles of trash from being swept into the ocean. The practice is grounding and prepares me for the workday.
If you could learn anything what would that be?
Hmm. Maybe I'd learn to surf but I'd be too concerned for my safety. So I'll stick with admiring from the beach, while collecting sea glass and trash.
 
Pages