---
Name (pronouns): Aria Yow (she/her/hers)
Department/Division: Smoking Cessation Leadership Center, Division of General Internal Medicine, Department of Medicine
Years at UCSF: 1.5 (2019-present) plus 7 (2009-2016)
Role in technology: Data and Project Analyst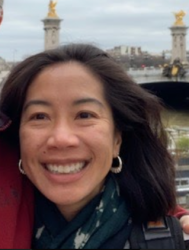 What technology project(s) have you worked on that you are most proud of?
I enjoy nerding out on Qualtrics surveys, especially Advanced Reports. I like how Advanced Reports make it easy to render the data cohesive and understandable through graphics, and then to share that data.
How has technology helped you achieve a goal within your role or department?
Besides data tracking and reporting, supporting trainings and communications can be a big part of my job. Especially during the pandemic, my team has adapted quickly to different ways of communicating, including Slack and hosting Zoom trainings. I'm proud of myself and my team for adapting to and learning so quickly, new communication channels and methods. Learning these skills has also let me become more flexible in how I communicate.
What's your favorite aspect of your role at UCSF and why?
Working with smart, capable and kind people is my favorite aspect of my role at UCSF. I am grateful to work with an awesome team here at the Smoking Cessation Leadership Center, whose members care about health equity and public health. In the bigger UCSF community, over the years I've met a wide range of interesting people. My manager from 2009-2012 is still a friend and may be the last one I saw in person, during a 1:1 outdoor holiday gift exchange. Today, as a new member, I look forward to learning from and with the good folks in [email protected]
What's one 'fun fact' about you that not many people know?
Using a decade of babysitting earnings (including fulltime), I earned my single-engine land private pilots' license in 1993. Coincidentally, in 2009 at UCSF I reconnected with one of my babysitting kids, while she attended UCSF School of Medicine: now she's a Kaiser pediatrician!
What do you like to do when you're not at work?
My hubby and I like to walk together often, in this great city we're so lucky to live in. During the pandemic, these walks have become a highlight of my day.
If you could learn anything what would that be?
After I retire, I want to learn how to dance, maybe through dance lessons with my husband.
Pages