---
Name (pronouns): Sharon McClain
Department/Division: UCSF Fresno Hildebrand Medical Library
Years at UCSF: 18
Role in technology: Medical Library Professional utilizing technology to support the diverse community of faculty, learners, and staff in a culture of evidence-based practice through education, outreach, and consultations to provide customized medical literature content.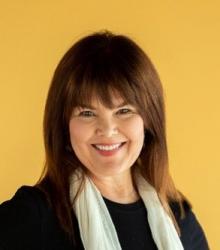 What technology project(s) have you worked on that you are most proud of?
The UCSF Fresno library team adapted quickly to utilize technology during the pandemic to continue to offer services and trainings to UCSF Fresno library patrons, which were previously offered in person. We found new methods to deliver content online, from our library workshop training series to evidence-based medical literature reference interviews.  
How has technology helped you achieve a goal within your role or department?
Utilizing online workshops and consultations via Zoom, our library team has assisted in training the UCSF Fresno community in the use of UCSF Profiles faculty pages as a powerful networking and marketing tool.
The UCSF Fresno medical library is currently going through a major renovation, under the direction of Dr. Emy Phillips, which will include the addition of an Innovations Lab with 3-D printing and scanning and a 3D virtual reality station. I'm looking forward to expanding my knowledge base to train and support faculty, learners, and staff in these new modes of technology.   
What's your favorite aspect of your role at UCSF and why?
Interacting with and providing support to the diverse UCSF Fresno community of faculty, learners, and staff is the most enjoyable part of my role as a Medical Library Professional. Knowing that I am a part of the UCSF Fresno community whose focus is on improving health for all through medical education, patient care, research, and community partnerships here in the Central San Joaquin Valley.
What's one 'fun fact' about you that not many people know?
I'm a trained, certified yoga therapist and yoga instructor with a mission to spread the message that yoga is accessible to everyone. As one of my yoga mentors says, "If you can breathe, you can do yoga." I've taught yoga at UCSF Fresno for years with classes moving to an online format during the pandemic. In addition, I've offered a weekly therapeutic yoga class for injury and illness for over 7 years at a local cancer treatment center (classes currently online) for patients, survivors, and caregivers.
What do you like to do when you're not at work?
Practicing yoga, of course, hiking the Sierra foothills and mountains with my husband and working on an English degree with an emphasis in creative writing.
If you could learn anything what would that be?
Since I'm a linguaphile, I'd like to learn more foreign languages. Learning other languages and cultures expands one's horizons, perspectives, and develops empathy, creating a more connected global community.
Pages