---
Name (pronouns): Stephanie Yee (she/her/hers)
Department/Division: UDAR
Years at UCSF: 2
Role in technology: UCSF communicator (e.g., email, website, social media, etc.)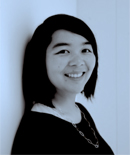 What technology project(s) have you worked on that you are most proud of?
My team hosted a virtual sendoff for one of our colleagues leaving to start a new job, and I created a farewell video that included photos, background music, video clips, a recording of us singing rewritten lyrics to the theme song of one of her favorite sitcoms, and slides (thank you, Canva!) of the lyrics. Definitely thus far the most challenging video I've worked on, but I also learned a few new skills (e.g., figuring out a "creative" way—without an autotune button—to layer and blend voices from individual audio clips.)
How has technology helped you achieve a goal within your role or department?
I would have a tough time staying organized and on track without project management tools like Asana! This web application has been especially helpful in the work I do to support my team as we pivoted from planning in-person events to virtual programs.
What's your favorite aspect of your role at UCSF and why?
I have a few but getting to work with and learn from many members of our huge UCSF community (on- AND off-campus) is definitely at the top of my list!
What's one 'fun fact' about you that not many people know?
…I have never owned a smartphone (but know how to use one – sort of.) #SMSonlyPleaseAndThankYou
What do you like to do when you're not at work?
Hmm, I'd have to say dance fitness since it's a fun way to get moving and develop some motor skills with no other exercise equipment required (I promise you won't regret not asking me to join your team for any competitive sports that involve a flying object).
If you could learn anything what would that be?
Anything? Like…self-teleportation?!? I suppose if I had to choose something more…realistic, I'd like to get certified as a scientific diver so that I can assist marine biologists in their work; perhaps I'll even one day appear for a split second on a future episode of Nature's "Spy in the Wild"?
Pages