---
Name (pronouns): Armanda Edwards-Newman (She/Her/Hers)
Department/Division: IT-PMO
Years at UCSF: 10
Role in technology: Technical Project Manager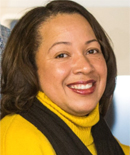 What technology project(s) have you worked on that you are most proud of?
A project known as the, "Datacenter Migration" was an experience that was challenging, long, and robust, to say the very least. However, this project is where I learned a great deal about the complexities and interdependence of various departmental and enterprise systems and applications. This experience not only expanded my knowledge of the UCSF environment, but it also forged wonderful friendships in the process. I'm most proud of this project because it wasn't easy, yet it yielded great benefits both personally and professionally.
How has technology helped you achieve a goal within your role or department?
Often within project management there is an ongoing need to understand the associated business requirements and map them to technical deliverables and tasks. My technical background as a systems analyst has put me in a unique position to be able to speak and translate both "languages".
What's your favorite aspect of your role at UCSF and why?
I can easily say that the interaction with people is my favorite part of being a project manager. It gives me great satisfaction. I enjoy interacting and communicating with various departments and roles throughout the "small world" of UCSF. It provides me with so many different perspectives, insights, and experiences.
What's one 'fun fact' about you that not many people know?
I am affectionately known to close friends and family as "Lady MacGyver". I am equally as comfortable with a hammer, drill, screwdriver, vice-grip, duct tape, etc. as I am with a keyboard, mouse, and a computer.
What do you like to do when you're not at work?
In another life, I believe I would have been an engineer some sort because I spend my off-work hours building, repairing, or designing something. I have always found extreme pleasure in creating experiences that people, including myself, can enjoy.
If you could learn anything what would that be?
My greatest joy in life comes from the joy of others. Therefore, I would love to learn how to become a Life Coach, which is a role that helps people build happier and more meaningful lives.
Pages