---
Name (pronouns): Sarah Lisker (she/her)
Department/Division: Medicine/Division of General Internal Medicine-ZSFG
Years at UCSF: 6
Role in technology: Manager of the Health Information Technology and the Safety-Net Lab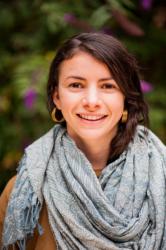 What technology project(s) have you worked on that you are most proud of?
I manage the operations of SOLVE Health Tech, a program dedicated to making health technology more equitable for marginalized and minoritized communities. I am passionate about improving the accessibility of digital tools in partnership with those who are often excluded from the design and development process.
How has technology helped you achieve a goal within your role or department?
It feels difficult to overstate the role technology plays in the way we work. To call out a specific example, I particularly appreciate how our Division Analyst, Kelly Kiser, uses technology to help us learn from one another with the DGIM Wiki. It's an easy-to-use tool that allows our division to share knowledge with one another in a constantly evolving research environment. 
What's your favorite aspect of your role at UCSF and why?
Getting to work with and learn from colleagues who are dedicated to improving health equity.
What's one 'fun fact' about you that not many people know?
I just returned from a 16-day rafting trip in the Grand Canyon. It was unforgettable!
What do you like to do when you're not at work?
Go camping and backpacking outdoors.
If you could learn anything what would that be?
There are so many things I want to learn! I am currently re-teaching myself how to play violin.  
Pages